VIRTUAL Pumpkin Run 5K and One Mile 2020! 
Register to run on your own, raise funds to support Tourette syndrome services and participate in contests. Run on or before Saturday, October 31, 2020. Our main sponsor is once again:

Our participants in the 5K and 1 mile ($20 option) receive a FREE Single Attractions Pass for their choice of any of the regular attractions at Shocktoberfest. (A full $20 value! Subject to opening for the 2020 season.) Learn more at http://www.shocktoberfest.com/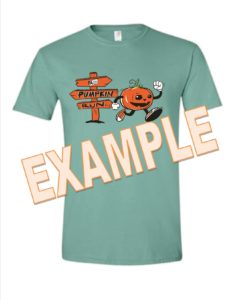 All 5k participants will also receive a T-shirt and a medal if registered before Oct 7th.  Contests will occur during the weeks before the race which includes a costume contest. One milers can receive a FREE pass and T-shirt if registered before Oct 7, when opting for the $20 option.  There is also a $10 option which does not include a Free pass or a t-shirt.  You are welcome to walk the distance too!